A self-study course to help you develop a solid, stylish, and successful website for your brand.
Grow your brand presence with a clear, cohesive, and consistent website.
Why you need it:
It's hard to DIY branding, and building out your business's website is arguably one of the most time-consuming, challenging, and overwhelming branding tasks. Adding to that, establishing a clear, consistent, and cohesive online presence is vital for business success.


If you're on a tight budget, and you're looking for a really affordable option between DIY-ing it on your own and hiring a branding company to do it all for you, this course is perfect for you!


With BLOOM, you'll get clear instructions and insider's knowledge from two branding professionals, all packaged in a series of helpful tutorials for how to write effective copy and how to layout the best website.
Professional Guidance at an Affordable Price
We believe in providing accessible resources for entrepreneurs and organizations, regardless of how big or small the budget. That's why we recently cut the price for enrollment in BLOOM by 50%. Investing in your brand shouldn't break the bank.

With BLOOM, you'll build a website that wows your customer from first-sight, all for a super affordable investment.
After this course, you'll have:
A clear direction of your website, plus easy-to-implement tools and tips.
A harmonized blend of the visuals and voice of your brand, so that you have a clear, consistent, and cohesive website.
A user-friendly website that attracts your ideal customer and showcases your product, services, or other offerings.
More confidence in your work and pride in your brand.
A website that works for you, so that your business shines online!
You'll walk away with skills to:
Create powerful and effective language for your various web pages.

Customize layout and design of Squarespace website templates.

Develop an opt-in incentive to capture email leads from site visitors.

Start writing about your story in a way that engages with your customer, and helps your brand shine.

Find graphics that complement your brand.

Learn how to connect your newsletter to your website.

Get the tools you need to layout a website that helps your business succeed.
Learn as you go, from anywhere.
BLOOM is convenient, straight-forward, and simple to use.
Wherever your work takes you, BLOOM is easy to access.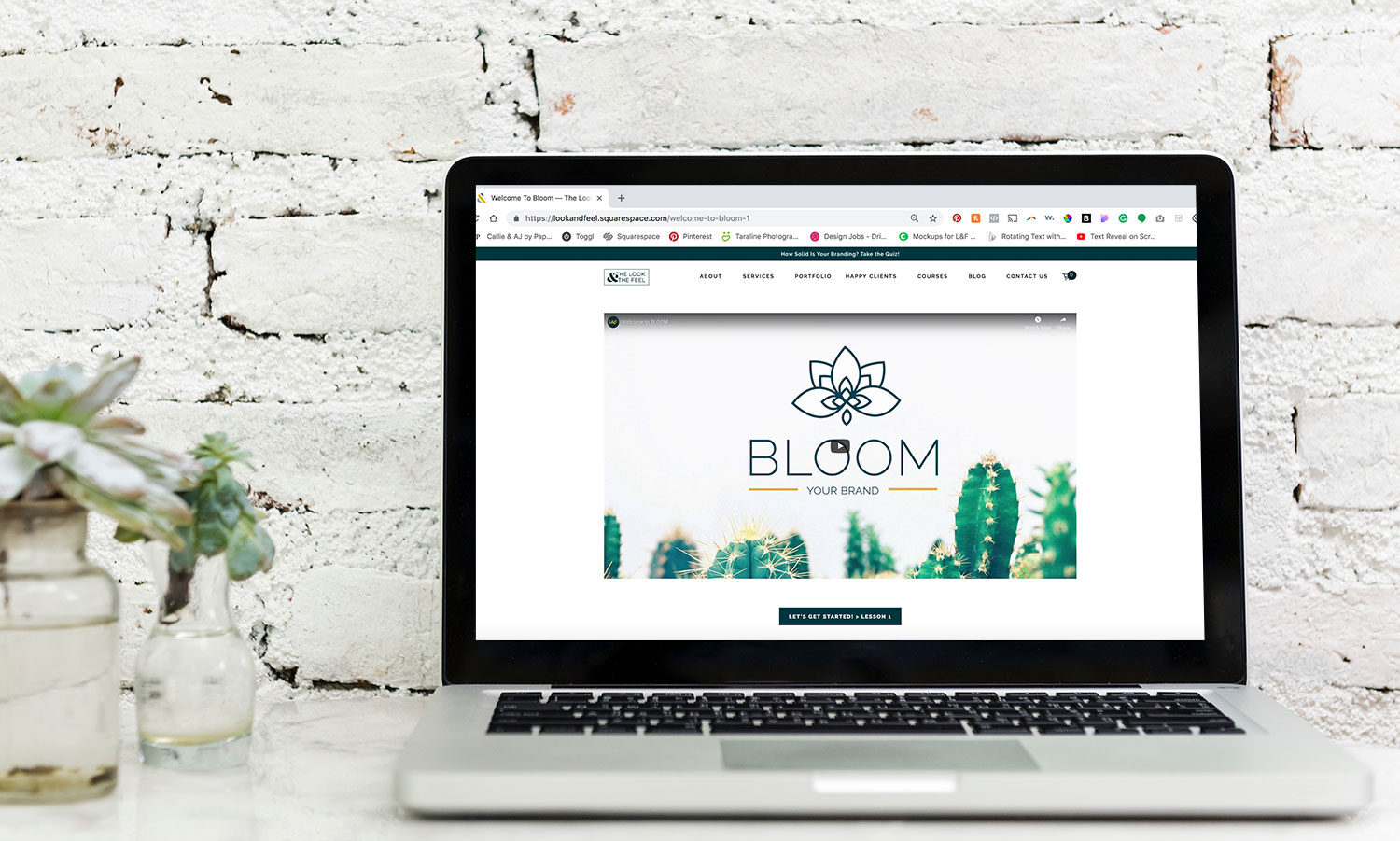 We've worked together to bring you valuable content to help you create the best website for your brand

• SEVEN INFO-PACKED LESSONS, brimming w/tips, tools, and useful guidelines for you to use.
• Easy-to-follow video tutorials
• Helpful downloadable PDFS and worksheets
• PLUS, email support for up to 60 days from purchase from Callie & Shelly, The Look & The Feel founders

PRICE: $97
Thinking of working with us to build your brand?
BLOOM is great for DIY-ing and building your skills, but if you're interested in going deeper in the future, we want to honor your DIY spirit by offering you a special deal on our services.
BLOOM enrollees get a percentage off each of our branding packages, which works out to $50 off or up to the entire enrollment fee. That means, if you hire us for our EXPAND package, you'll save the entire BLOOM course fee.
It's almost like getting the course for free.
Would you like to ask us a question about BLOOM, or do you want anything clarified?
Just send us an email to team@lookandfeelbranding.com, and we are happy to answer your questions.
COURSE POLICIES
Email support is valid for up to 60 days from time of purchase and is within our office hours (Monday-Friday, 9am-8pm EST).

This course is a self-directed study and it doesn't include any 1:1 coaching, telephone conversations, website development, design, or maintenance, or any copywriting. Basically, this is an online course for you to use on your own, you aren't hiring The Look & The Feel to do any design or writing work for you. If you're interested in hiring us, please take a look at our services.

We know, it's not super fun to talk about things like stealing or illegally sharing information, right? However, it's an unfortunate reality in today's digital information world. Knowing this, we want to remind you that this information, BLOOM: a self-study course for DIYing your brand's website, was made by us (The Look & The Feel) for you. We worked hard to develop this course, and its materials, downloads, and video tutorials are all protected information that is not--under any circumstances-- permitted or intended to be shared with anyone other than our paying customers. We appreciate your cooperation and respect in this. Thanks for your business!